Lunit at ECR 2020: Providing Virtual Exhibition and Online Presentations
Through ECR virtual platform, Lunit to present its virtual booth where visitors can interactively learn more about AI software for chest and breast radiology
July 13, 2020
-Academic presentations available via online video; covering original research topics from Lunit on breast and lung cancer detection using AI
-Lunit's AI solution for radiology, "Lunit INSIGHT" is CE marked and commercially available in Europe
Lunit, a leading medical AI startup, will be virtually participating at ECR (European Congress of Radiology) 2020, which is scheduled to be held beginning this Wednesday, 15-19 July. This is Lunit's inaugural participation at the annual meeting, after which the company had received a CE mark for its AI solution for chest and breast radiology, Lunit INSIGHT series. The software detects chest abnormalities from chest x-ray and breast cancer from mammograms, respectively, with an accuracy of 96-99%.
The virtual exhibition will be opened to the registered members beginning the 15th, can be accessed via this link: https://ecr2020.expo-ip.com/ At Lunit's virtual booth, visitors can watch videos and try online demonstrations to learn more about Lunit INSIGHT products. Lunit sales representatives will also be accepting inquiries through an instant chatting system.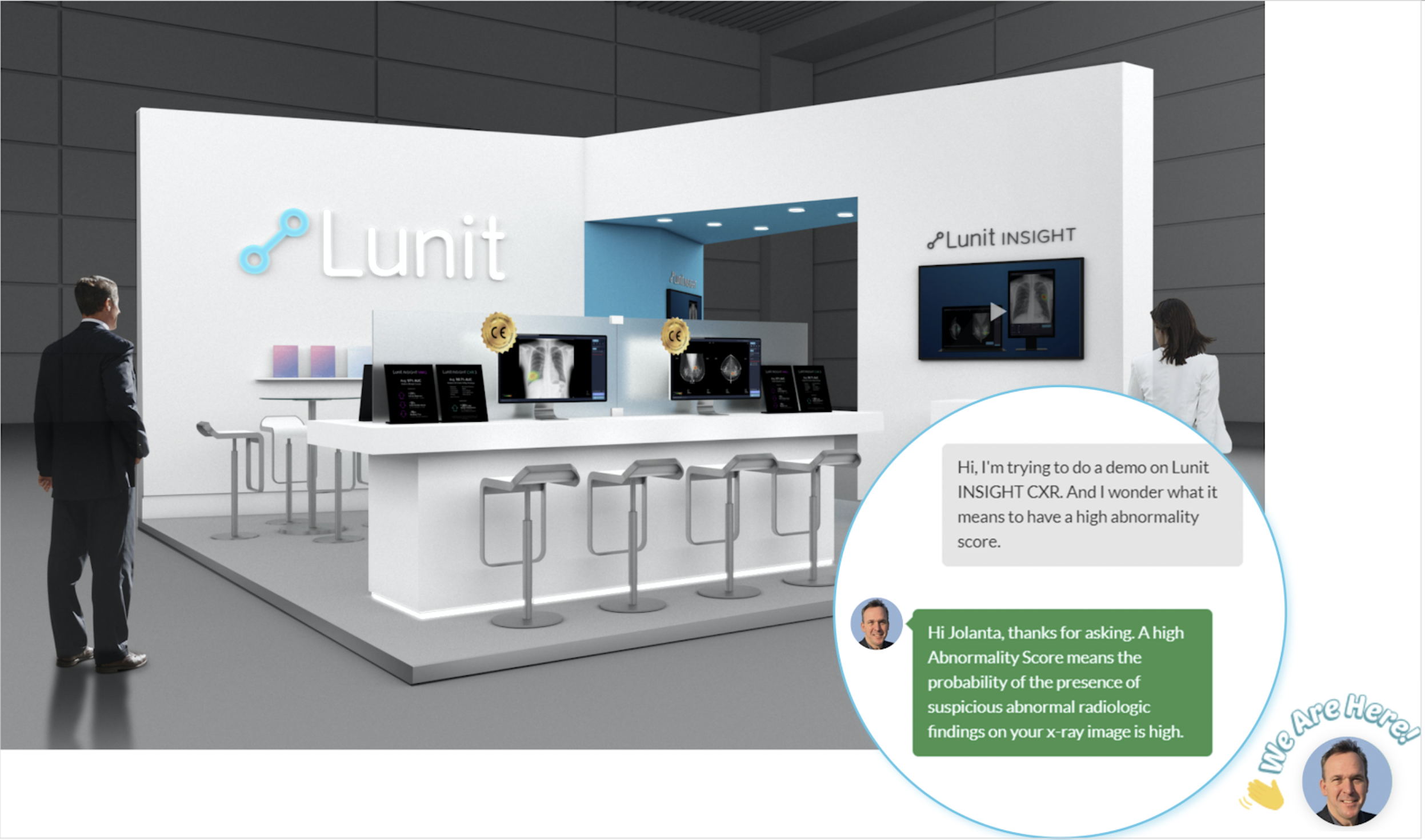 Additionally, medical and AI researchers at Lunit are presenting their studies and findings during ECR academic programs for Breast Radiology and Chest Radiology. The recording of these presentations will be available on-demand on the ECR website. Lunit's CEO, Brandon Suh will be also presenting about "Precision Diagnostics in Chest and Breast Imaging" during Artificial Intelligence sessions. Below is information about Lunit's presentations during ECR 2020.
Presentations by Lunit During ECR 2020
Precision Diagnostics in Chest and Breast Imaging
Presenter: Brandon Suh, M.D., M.P.H., M.B.A., CEO of Lunit
RPS 702-1 Breast cancer detection in mammography using artificial intelligence: a large-scale retrospective evaluation
RPS 702-2 Breast cancer detection in screening mammography using artificial intelligence: a multicentre retrospective reader study
RPS 105-1 Deep learning to increase lung cancer detection in chest x-rays: a retrospective cohort analysis of national lung screening trial participants
RPS 1205 -13 On the robustness of a deep learning-based algorithm for detecting abnormalities in chest radiographs across different devices and view positions: a retrospective case-control study
About Lunit INSIGHT
Lunit's AI solution for radiology, Lunit INSIGHT series provides AI detection and analytics for radiology images. The most mature product within the series, Lunit INSIGHT CXR and Lunit INSIGHT MMG provides AI-powered detection of lesions that are suspicious of chest abnormalities and breast cancer with 96-99% accuracy, by analyzing chest x-ray and mammography images.
The software has been validated through studies published in major peer-reviewed journals such as Radiology, Lancet Digital Health, JAMA Network Open, Clinical Infectious Diseases, and etc. It is also embedded in imaging devices and PACS systems of major vendors such as Fujifilm and GE Healthcare.